Here, you can make your own Fanfiction for the game Darkspore. This includes custom Crogenitors, made-up Genetic Heroes, fan-made Darkspore, and even new worlds and Genesis Types.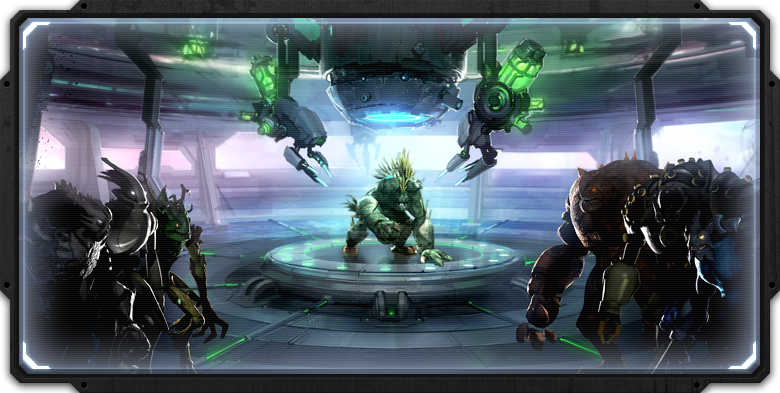 The Wiki already contains many new custom Genesis Types, Classes, and Heroes. Please take a look around to see how to make a Hero or Enemy page. A list of the Heroes will take volumes, but here is a couple lists of the new Genesis Types and Classes.
Ice Genesis
Light Genesis
Aqua Genesis
Geo Genesis

Aero Genesis
Arcane Genesis
Alliance Genesis
Hybrid Genesis

Moramian Necro Genesis
Moramian Quantum Genesis
Moramian Cyber Genesis
Moramian Bio Genesis

Moramian Plasma Genesis
(New Class) Hero Scouts
(New Enemy Type) Wild Animals
TEKK-240, the Minesweeper
is a Cyber Tempest from Infinity. After lying almost dead, suffocating from Infinity's pollution, Suzu healed him and encased him in a robotic suit. His title is based on his ability to deactivate enemy traps, mines and turrets.
Read more...
Edit
Create blog post
Recent Posts
I don't know if anybody is on this wiki anymore.

I don't know if anybody cares anymore about Darkspo…

Read more >

It's been a while.

I would like it if the Heroes, Darkspore, and whatever other things I have contri…

Read more >

ATTENTION! This Page Is UNDER CONSTRUCTION

Awhile back, someone was talking about Epsilon, Zeta, Eta …

Read more >
See more >
Darkspore Fanfiction is starting off the new year with a contest, reversing the status of heroes and destructors for a special fan-made expansion. See contest details at Reverse Contest 2013.